Parking at The Masonic



Public Parking
The Masonic Garage offers indoor public parking 24-hours, 7 days a week for visitors, guests, and local businesses. Daily Parking Rates apply except when there are events at The Masonic.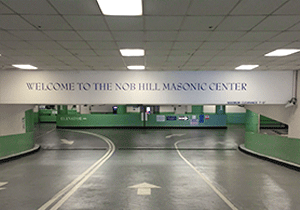 Monthly Parking
The Masonic Garage offers Monthly parking at a competitive price.  Indoor, well-lit, unobstructed parking for electric cars, motorcycles and more. Car washes and other amenities available.  Click here to reserve your space.
Daily Parking Rates
Daily Parking Rates apply except during events at The Masonic. Enter your entrance and exit times below to calculate the parking rate. You can also pre-purchase your parking to guarantee a spot for the specified date and time.
Buy Daily Parking Online
If you have a problem with a pre-purchase reservation, please call (866)330-7275.